So, a lot of people have been wondering what has gotten my apartment in such an uproar. Since I don't want to go to bed, I figure I'll just blog it. So, if you want to know how University Villa is
outside
of the pretty pamphlets and lure of their cheap pricing, here it is:
I'll talk about my summer roommate problems another time, but let me just say that I have had issues with management long before this. I guess this means there will be a part 2 to this blog.
So everyone is moved in a couple of days before school starts. Everything is going great, we have an awesome Sunday dinner the day before school, and then...the hot water turns off. We can't do our dishes and the 2 people who shower at night will have to wait till morning. Well, it happens, right? So, we go to bed and wake up in the morning. No hot water. Still bitter cold. It should not be that cold in the summer. Seriously. Later Monday night, finally we had hot water and we could do our dishes and shower. It was heavenly.
Well, the week goes by without incidence, minus the rage at the internet. This internet is so awful. Sure, it's free, but even if you pay the 15$ to upgrade, there is no improvement at all. I don't even get to use Pandora during the day because the server is so overloaded. If you are going to give me free internet, make it work. Many of us have lost assignments or quizzes online because all of the sudden the internet will just turn off. That's rude.
all
of our dishes. Well, as we come back from ward prayer, we start to do the dishes...nope. Cold water...again. Seriously.
I should note that during this month, actually on September 12, I sent the Villa both an email and a Facebook message asking about the water. Let me just give that to you:
Hey Villa,

My roommates and I (and the next door apartments) have been without hot water again. Is anything being done to really rectify this situation? I mean, we are still paying for the water and everything, which I don't think is appropriate if it is broken half of the time. Can we please get an update on what is going on? It is really annoying that almost every other day we wake up and there are problems with the water. That doesn't just back up the shower, but dishes as well causing sanitary issues. If the hot water isn't working by tonight, I don't think it would be appropriate to have the cleaning lady come and check the kitchen, since it is impossible to clean.

Please do something about it. Well, you probably are working on it, but maybe you need to hire someone new, because the current people are not doing very well. This isn't the best impression to leave on your tenants in the first 2 weeks of the semester.

But, your party was a blast by the way. Good one.
---and I signed my name.
Well, more than a week later I get this message back.
one
ERik, you dont pay for the water, but we understand that there is a problem and it is in the process of being fixed. There is a part to the boiler system that keeps breaking down, and we've had the plumbers out to take care of it and the part is on order and should be here soon. Sorry about the troubles and we hope to get it fixed as soon as possible
Anyways, we are back to the present. So, Sunday night we stayed up to see if the hot water would ever come back on because we had half our apartment full of dirty dishes and 4 guys who wanted to shower. So, around 11:45p I called the after-hours maintenance number. I knew it was a machine and last time we used it, the guy didn't call Cy back for another day and a half. So, I was like, what does it matter if it is late? I explained the problem, saying we don't have hot water and we have a lot of dishes to clean up and if we could get it checked out or at least know the status of the water heating up.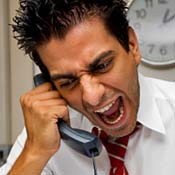 5 minutes later I get a call from a very angry person. Some guy calls me and saying that it was inappropriate to call because it was late and I just woke up his whole family and I was being very rude. I said I was sorry and asked if I could explain our situation, he cut me off and told me NO! I was being ridiculous and then he rambled on about how some part was put in on Thursday so it should be fine and then says, "You kids need to learn what is appropriate..." At that point, after getting lectured on the phone, I said, "Excuse me. I am not a child and I would appreciate it if you would treat me like an adult. Can I explain the situation now?" He told me no and that the conversation was over.
In case you were wondering, we looked up what were considered "essential amenities" to call about for after-hours maintenance and hot water is listed. Thank you. Now, please do your job.
does
work again, thank heavens and I find that I have a little bit of time to clean the mountains of dishes in our kitchen. Well, as I am working, about half-way through, I notice that my socks are all of the sudden really warm....and wettish. I look down and there is water all over the floor. I thought my sink had overflowed, but no. It must be coming from the drying rack? No. I see it coming out of the cupboard under the sink...bingo! I open it and find that the whole bottom part of the sink pipes have just come off. Completely. Nothing "broke", but they just fell off. Water was just gushing straight from the top of the sink out of the bottom. The whole cupboard is dripping wet and our kitchen floor is soaked.
Well, I already was sick of calling about maintenance problems since I always get treated like a child and was yelled at the night before, so I have Michael call. He does, and they say that they might be able to get someone in the next day (Tuesday/Today), but it may be a couple of days. In the meantime we can use our bathroom sink.
Michael looked up our contract again. Apparently they have 12 hours after we contact them about serious problems, which includes the kitchen sink, to fix it. Well, the maintenance guy doesn't come until 5pm today (so almost 24 hours later). In the meantime, I cooked another dinner, so we have
twice
as many dishes. But guess what? He only fixed half of the sink. We find a note on the counter that says, "Please do not use this side of the sink!!!" Great. I'll just let the food cake in the sink.
Eww.
Oh, by the way, they came in to fix our window or something...and all they did was tear down our blinds and leave them on our kitchen table. That's it. So, instead of a new window, we have no blinds. No blinds=no privacy. Rude times 5.
So, here is what is getting me angry:
The Villa is treating us like children.
They are keeping us in the dark.
They don't fix anything in a timely manner.
I'll let you know about the summer...
They start a project, but don't finish it and they leave you in limbo.
University Villa, if anything, can you please just let us know what is going on???? Why is the hot water not fixed and what are your plans to get it working? Why does it take so long to get things repaired? If you are backed up, then put a flyer around the apartments explaining what is going on please!
Then, they had the audacity to post on Facebook this question: what amenities would you like to have?
How about you just fix the problems that you have now, because if you add more amenities it is just going to break too.
By the way, the ping-pong table broke once...it was fixed in less than 2 days. What?
The pool was out of service again. The villa doesn't put chlorine in it apparently. Um. Eww.
Well, thanks for reading. I hope you realize how blessed your Provo apartments are.